National
PURPLE

Lipstick Day for Domestic Violence Awareness

WHAT IS NATIONAL PURPLE LIPSTICK DAY?
Domestic violence survivor Denisha Hardeman created National PURPLE Lipstick Day to bring awareness to domestic violence and picking up the pieces afterwards, living a happy and fulfilling life. Beginning this year and each year thereafter, National PURPLE Lipstick Day will be celebrated on October 21. The occasion will ignite a community "call to action" urging the public to speak up against domestic violence. Too often people turn the other cheek when they have witnessed loved ones entangled in abusive relationships.
PURPLE is the National Domestic Violence Color. October is Domestic Violence Awareness month. Wearing PURPLE lipstick on this day symbolizes the courage that we wish to impact on victims who are too intimidated to speak out about the circumstances .
Denisha encourages survivors and other women to join her by wearing PURPLE lipstick on National PURPLE Lipstick Day in support of Domestic Violence victims and to raise funds to support domestic violence victims. Please help her give others the courage to speak out and receive the help they need. We hope that women and men alike who were previously afraid will find the courage to "Un-Silence" on this nationally recognized day!
Social Media Photo Competition:
The social media campaign is to encourage EVERYONE to get involved in National PURPLE Lipstick Day to spread awareness for Domestic Violence!
Follow Denisha on IG @craziedede09.

Upload a Picture of yourself in PURPLE Lipstick. (You can also upload a picture of a spouse putting PURPLE Lipstick on you as well. See reference pics!)

Write a status on why YOU support National PURPLE Lipstick Day.

Hashtag- #HushedNoMore #National PURPLELipstickDay #UnsilenceDomesticViolence

@ or Tag @craziedede09 in your photo!

Three winners will be chosen based on 1) Creativity of the photo 2) Status on why YOU support NPLD.
1st Place- $100 cash prize, Exclusive Beauty Bag, Featured on the website and Denisha's Instagram, Photo will be featured at the 1st annual National PURPLE Lipstick Day Event.
2nd Place- $50 cash prize, Exclusive Beauty Bag, Featured on the website
3rd Place- Mini Beauty Bag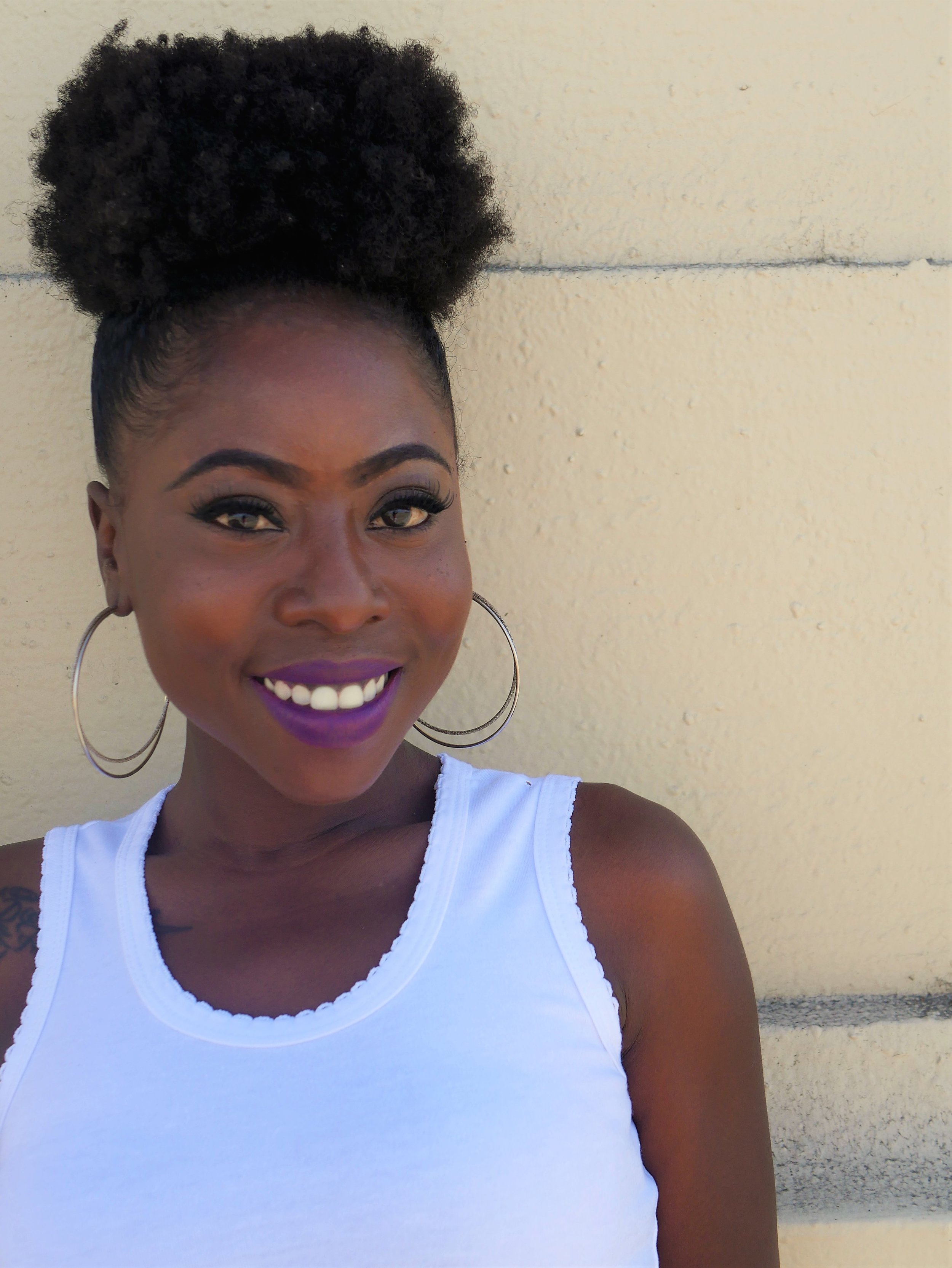 The National PURPLE Lipstick Day will have it's first annual event in Houston, Tx.
Vendors in Houston- Please email everythingdenisha@gmail.com for Vendor table prices. Please put "Vendor" in subject line.
Sponsorship Packages- Our sponsorship packages range from $250 - $4500 range from logo branding at the event to Un-Hushed partnerships. Please email everythingdenisha@gmail.com and put "Sponsor" in the subject line.
NPLD Promo Photos & Support Stories:
TAYLER : I am not someone who has experience domestic abuse. However , I have witnessed and know that a family member has been through it before. And her braveness to escape has really helped me to understand to never tolerate any form of abuse from a lover. And if I do experience it to seek help fast before it gets out of hand .. it may seem hard but help is out there!! I support National PURPLE Lipstick Day! 💜💜💜💜💜💜💜💜
SHARON : I support National PURPLE Lipstick Day! 💜💜💜💜💜💜💜💜
DAYLE : I support National PURPLE lipstick day because no one should have to live in fear, whether that be in the home or in a relationship.💜💜💜💜💜💜💜💜
TYANNAH: I support National PURPLE Lipstick Day!💜💜💜💜💜💜💜💜
MARIA ELENA : I once was the girl who frowned upon...couldn't understand...those women who seemed too weak to leave an unhealthy situation. That is of course until i became one of them.
At first it was subtle, undetectable. In time, I was in a marriage that stripped me of my confidence, my self esteem, my sense of worth. I had become a shell of the young, vibrant woman my friends and family remembered.
I don't recall how it started or when was the first time, but one of the biggest impacting moments was when, upon asking for intimacy and questioning why i kept getting rejected. So i stopped asking...and I stopped getting. Instead of throwing myself at other men, i threw myself into exercising...a lot! My body was in the best shape it had ever been, but my heart was broken and my soul was crushed. The comments progressed passed the sex. My job wasn't that important, my income wasn't enough, I was selfish, I was the Queen of c**ts...The emotional destruction just kept getting bigger and bigger until one day I stopped fighting back. I didn't care enough to voice my opinion. I didn't care enough to stand up for myself. I just didn't care anymore.
But i stayed...why did i stay? Out of fear...out of pride...out of complacency. I tried to leave, but i went back. It wasn't just my physical and emotional body that suffered. The furniture and the walls paid the price too. Broken chairs, holes in the walls. To the outside world, we were the perfect couple. Behind closed doors, we were roommates ...strangers even. He dangled the divorce card over my head like a piñata.
Then i had my daughter. My firecracker, my angel, my world. That is when the warrior in me awoke. If I wasn't going to leave for me, I would do it for her. I didn't want my little girl growing up in a toxic environment, witnessing a verbally and emotionally abusive relationship thinking this was ok, it was normal, it was acceptable. It is NOT acceptable.
My daughter was nineteen months old when I finally said "when". I walked out with my daughter on my hip, and I never looked back. Never second guessed my decision again.
It has been a long and emotionally exhausting road. But i can breathe again. I am smiling again. And, most importantly, my daughter gets to grow up away from the daily toxicity of it all.
I am a work in progress. Everyday is a step in a better direction. I am a survivor. I am strong. I am learning to be the best I can be for myself and my child.
If I could help just one woman who feels helpless, hopeless, lost, with my story then i have succeeded. One step at a time, one day at a time, it WILL get better. Life is too beautiful to allow someone else to rob you of all its glory. I am not alone, and if you're reading this, know that neither are YOU.
I now wear my PURPLE lipstick with a new sense of pride. My painted lips are my billboard of awareness. #unhushed #speakup #nationalpurplelipstickday #dometicviolenceawareness 💜💜💜💜💜💜💜💜
RAJA : I used to work as a domestic violence counselor. People often judge victims for not leaving, but more often than not, it is much more complicated than that. We don't know the victim's situation. Can they afford to leave? Do they have somewhere to go? Do they have support? Can they afford therapy and other forms of mental and emotional healthcare? Are they further isolated when seeking help do to their race, sexuality, criminal history, or ability? Do they have any family in this country? Is it safe? This is why the movement to end domestic violence has to be holistic. The fight to end domestic violence is the fight for economic justice. It's the fight for healthcare. It's the fight for gender equality, anti-racism, anti-transphobia, anti-xenophobia, anti-ablism, and for lgbtq rights. I support National PURPLE Lipstick Day!💜💜💜💜💜💜💜💜
XANDREA: I was in high school I met the love of my life I thought at first I thought his constant attention and jealousy toward anyone who dare look my was was a form of love . I quickly learned that it was anything but love all about control. It took me two years to get away from him and it took me even longer in therapy to figure out why I would ever let a man treat me so bad. The moment I knew I had to get away from him is when we were sitting in our school sponsored counseling session and the counselor looked me in my eyes and told me that I had to get away from him because he was going to kill me.
The last time he put his hands on me I remember it like it was yesterday. It was New Year's Eve. I was trying to break up with him. I told him I didn't want to bring in the new year with him and he took me and threw me against the wall and subconsciously I called 911. The next thing I know the cops are at the door and he answered with a smile as if nothing had happened but I told them the truth and got the hell out of there that was the last time I ever let a man put his hands on me like that. At the time I was so young I never thought anyone would love me like I though he did . I have been married for 15 years now married to the love of my life we have two beautiful children and he has never put his hands on me or call me outside my name he treats me like a queen that I am that was my happy ending. I Support National PURPLE Lipstick Day!💜💜💜💜💜💜💜💜
SUZANNE: I support National PURPLE Lipstick Day!💜💜💜💜💜💜💜💜
ERIKA : I wear PURPLE lipstick to stand up for Domestic Violence because I believe in love, care, and respect. I am fortunate enough to be surrounded by family and friends who do just that, support me and treat me with kindness instead of violence and hate. However, i'v had too my friends become victims to Domestic Violence and it pains me to see the amount of abuse and struggle they have to go through. There are times in our world where people and obstacles will try and pull us apart, which is why I choose to stand up and fight back with love and positivity, oh and of course a great shade of purple lipstick ;) We are important, we are beautiful, and we deserve love, care, and respect. I support National PURPLE Lipstick Day!💜💜💜💜💜💜💜💜
EDEN: I was in an emotionally and physically abusive relationship when I was a teenager. I blamed myself for bringing on his anger and always tried to reason it out as to why he treated me the way he did. I felt as though I had no escape. He got so mad over something I had done that he tried to convince me to kill myself. Luckily, I was stronger than he made me feel and I truly loved myself, even then. Some of the things he did, I didn't realize was abusive behavior until much later. He tried to cut me off from my family and friends, making me feel like I was more alone than I was. I would keep secrets about what he did or lie to cover for him to others because there was part of me that knew what he was doing was wrong. I was eventually able to overcome him and reach out to my parents for help. I went to therapy and was able to find some of the strength I already had. I was with him for 2.5 years. I still find myself returning to old fears, but I have a good support system around me now and I almost never think of him. When I do, it is only a distant memory of a learning experience that I came out stronger from. That is a success in my book. I Support National PURPLE Lipstick Day!💜💜💜💜💜💜💜💜
TIFFANY: I support National PURPLE Lipstick Day!💜💜💜💜💜💜💜💜
KARLEE : I support National PURPLE Lipstick Day!💜💜💜💜💜💜💜💜
SHELLEY: I support National PURPLE Lipstick Day!💜💜💜💜💜💜💜💜
MELISSA: I support National PURPLE Lipstick Day because I am a survivor of domestic violence. By wearing PURPLE lipstick, I hope to open dialogue with people so that we can all work together to end domestic violence.💜💜💜💜💜💜💜💜
Colette: I support domestic violence awareness because of all the experiences of my friends, my family, and myself. I want women to know how valuable they are and that a man can never devalue them, no matter what he does. I want women to not be embarrassed and speak up if they feel they are being abused. I want to build a community where women know there is always someone to talk to, there is always a way out. I support National PURPLE Lipstick Day!💜💜💜💜💜💜💜💜
DENISE: I support National PURPLE Lipstick Day!💜💜💜💜💜💜💜💜
VIVIANNE: I support National PURPLE Lipstick Day!💜💜💜💜💜💜💜💜
THRESA : I am so honored to be part of an campaign that uses cosmetics to bring awareness to domestic violence. As a child, I was often eyewitness (always ear-witness) to the abuse my mother was subjected to. When I was 8, on the night of their anniversary, my stepdad hung her out a second story window, threatening to kill her. Recently, I spoke to his now 88 year old sister about the incident and her response was, "Well, that woman DID have a mouth on her." That woman was five foot two, 95 pounds. Her husband was six foot four, 260 pounds. Growing up, make-up to me meant covering bruises and abrasions. My mom would sit in front a mirror and gingerly attempt to hide the evidence of all that was done to her: black eyes, broken nose and cheekbones, hematomas in the shape of a man's hand, broken ribs and more. She'd put on a full face to save face when she walked out of her house. I don't care WHAT comes out of a woman's mouth, it does not excuse physical abuse and I will proudly represent what Denisha Hardeman has begun on #National PURPLE LipstickDay to help encourage the conversation that needs to happen to UNHUSHED the voices of women whose voices need to be heard by those who can help.
xo – Thresa Richardson💜💜💜💜💜💜💜💜
SKYLAR: I support National PURPLE Lipstick Day!💜💜💜💜💜💜💜💜
CARMELA: Carmela: I stand against domestic abuse, no one should have to feel small or scared because of someone else. There has been so many times a man touched or talked to me inappropriately and hurt me, making me feel embarrassed and as if I was the one in the wrong! No one should feel that way. I Support National PURPLE Lipstick Day!💜💜💜💜💜💜💜💜
ALYSSA: I support National PURPLE Lipstick Day because abuse isn't always easy to identify and sometimes nobody else will fight for you. I support National Purple Lipstick Day because I know how hard it is to find the courage to forsake everything you have in order to save yourself. I support National Purple Lipstick Day to be at least one person to tell you that life WILL go on, if you can be strong.💜💜💜💜💜💜💜💜
KRYSTAL: I support National PURPLE Lipstick Day!💜💜💜💜💜💜💜💜
M.K.: I support National PURPLE Lipstick Day!💜💜💜💜💜💜💜💜
TAMMY: I support National PURPLE Lipstick Day!💜💜💜💜💜💜💜💜
MOCHA: I support National PURPLE Lipstick Day!💜💜💜💜💜💜💜💜
I support National PURPLE Lipstick Day!💜💜💜💜💜💜💜💜
I support National PURPLE Lipstick Day!💜💜💜💜💜💜💜💜
I support National PURPLE Lipstick Day!💜💜💜💜💜💜💜💜
I support National PURPLE Lipstick Day!💜💜💜💜💜💜💜💜